Trustworthy Product Tracking with Cognitive Sensors and Blockchain Technology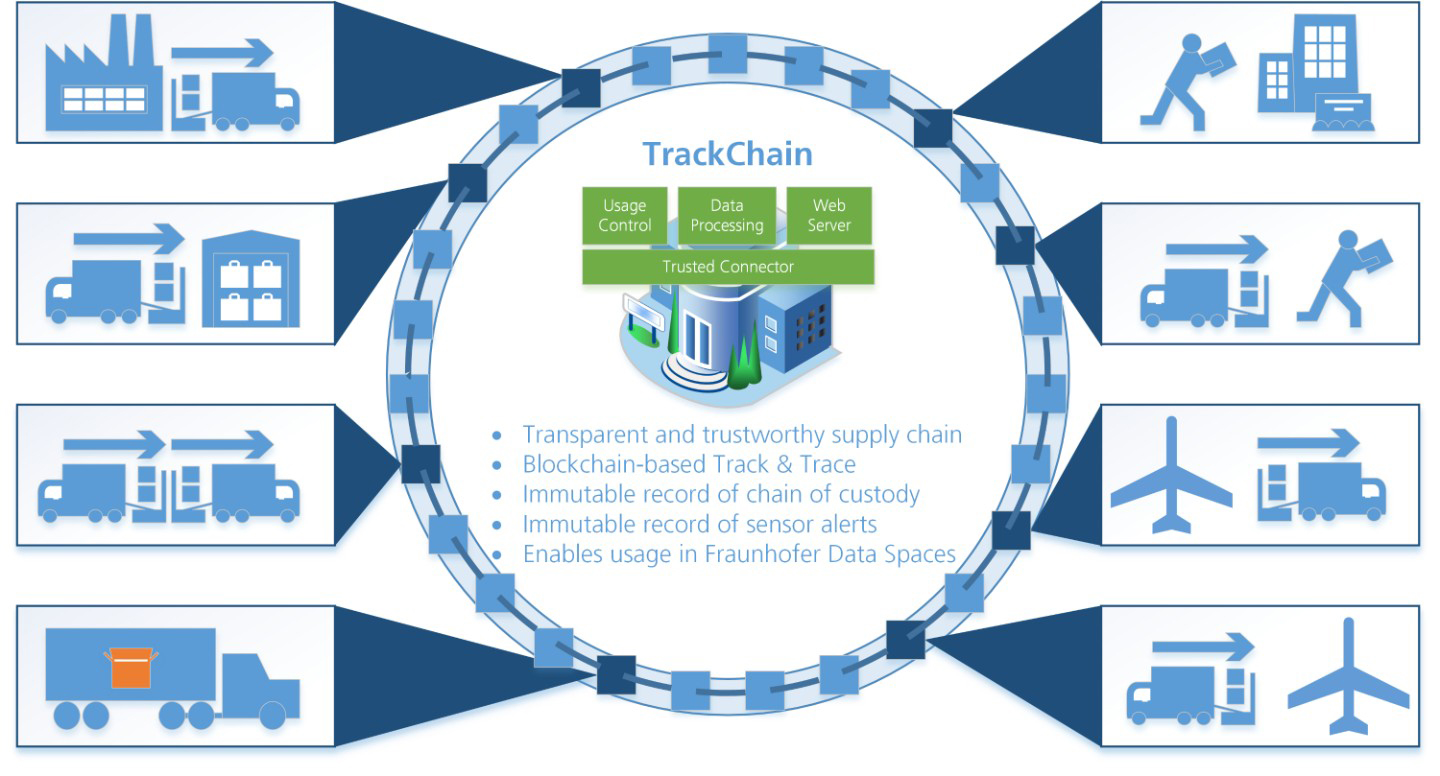 In order to maintain leading global market positions amid increasing networking and digitization, logistics nowadays need internet systems with cognitive capabilities and highly secure shared data spaces. The Fraunhofer CCIT is developing key technologies for this purpose, e. g. a seamless, trustworthy product tracking by means of cognitive sensor and blockchain technology.
Logistics can present some of the trickiest challenges in the value chain. Only a smooth and error-free transport of goods ensures an uninterrupted production. In particular, the transport of sensitive products such as glass, food, dangerous goods or sensitive electronic parts requires special safeguarding and documentation measures – especially when it involves small quantities or challenging legal requirements. The continuous recording, secure sharing and storage of data throughout the entire process is essential in this field. In this respect, logistics is a model case for networked production in Industry 4.0.
Smart Secure Data instead of Big Data – making complexity manageable
Temperature, storage, position and movement patterns – modern sensor technology can record a wide range of data regarding the state of sensitive goods during transport. However, the amount of data that has to be collected, aggregated and evaluated leads to enormous complexity. CCIT has developed the »Cognitive Sensor Connector« to make this complexity manageable: As an edge device, it preprocesses the raw data locally. This reduces the volume of data to be transmitted. In addition, and more important, they are refined into Smart Data at the point of collection, i.e. analyzed and preprocessed. Processing is protected against manipulation in specially isolated, secured applications (on the connector) that have various functions. All sensors communicate with the connector via encrypted, authenticated and integrity-based radio links. When data about the status of the cargo is being transmitted out of the connector to the actors involved, this is subject to strict data flow and data usage control, which clearly regulates who may use which data for how long, where and for what purpose. The trustworthiness of the sensor data can always be checked.
If anomalies occur in the logistics process, they are detected in real time and forwarded to the relevant stakeholders. The driver of a truck, for example, can be notified in realtime if the goods that are being transported are exposed to excessive vibrations on a damaged road. Manufacturers and recipients can keep an eye on the condition of the goods. In the event of damage, information about excessive deviations from the norm during transportation and about the point of origin is of great importance for the insurer.
Using blockchain technologies in a data-efficient and data-protection-compliant manner
By storing the collected data in a »Trackchain«, a secure blockchain that preserves data protection, supply and production chains can be tracked both company and worldwide and recorded in a traceable (compliance) history. The use of advanced cryptographic approaches such as »Attribute-Based Encryption« ensures that only those parties with the required authorization have access to information. The trackchain creates the prerequisite for data to be shared and processed in accordance with defined procedures between the sender and the recipient of the goods, between the driver and security personnel, and between the logistics company and the insurance company.
New value chains through sovereign data exchange
The ability to share real-time information in a controlled, i.e. data sovereign and secure manner is a prerequisite for new business models and sustainable new value chains. Guaranteed security and data protection are a competitive advantage. The International Data Spaces are a trustworthy, distributed infrastructure for cross-company data exchange. This permits control over one's own data and the economical and cooperative usage of date in a trustworthy, secure, decentrally managed data space.